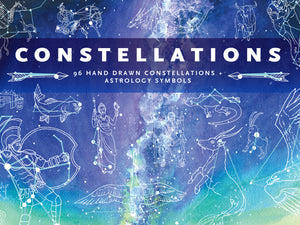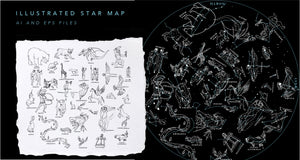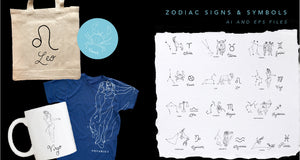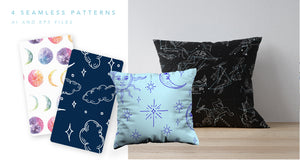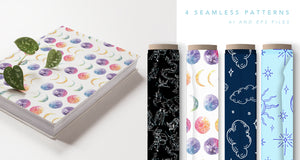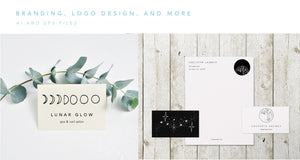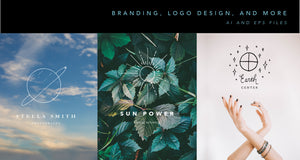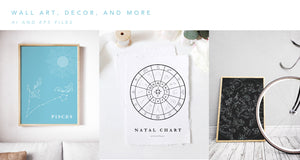 Regular price
Constellations, Astronomy and Astrology Vector Illustrations
---
This is a collection of over 96 hand-drawn constellations, zodiac signs, and astrological symbols. There are 42 constellations, 39 of which are commonly viewed in the Northern Hemisphere, and 12 Western zodiac signs. Included also are 54 planetary and astrological symbols, commonly viewed in natal chart readings. Plus, there are over 40 more hand-drawn illustrations including stars, moons, suns, planets, galaxies, and clouds. Each constellation not only features the hand-drawn subject, but also includes a vector star and line pattern of the actual constellation! 
Your download package includes:
-One circular Northern Night Sky map: one layer of star-and-line constellations, one layer of illustrations of the constellations, and a text layer with names and cardinal directions (.AI and .EPS files)
-42 isolated hand-drawn illustrations of the constellation subjects, plus the constellations' names in text (.AI and .EPS files)
-All 12 zodiac signs in 3 forms (constellation star map, illustration, and symbol) PLUS 2 text forms each: a serif font, and hand-drawn calligraphy! (.AI and .EPS files)
-4 seamless patterns, including a hand-made rainbow moon watercolor in addition to the astrological patterns (.AI and .EPS files)
-54 astrology symbols, plus their names in hand drawn calligraphy (.AI and .EPS files)
-5 moon and 5 cloud illustrations
-32 sun and star illustrations, including starbursts and galaxies
These fully customizable vector files can be resized, colorized, and transformed in all sorts of creative ways. This is a final, downloadable product, so photos of these vectors in use are not included. Text elements, mockups, and typefaces are not included.